Efficient cardboard compacting and baling makes good business sense. Strautmann balers reduces the overall cost associated with waste cardboard handling and recycling.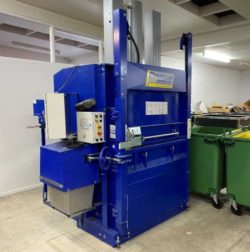 WasteCo NZ Ltd and Strautman have teamed up to bring the benefits of efficient cardboard baling to New Zealand industry & businesses.
Strausman recycling balers for cardboard, plastic and paper.
Easy more profitable waste handling.
Strautmann are a leading brand in baler compactors for cardboard recycling. What makes them different is their ease of use and export quality bales. Strautmann cardboard bailers become an efficient and profitable addition to warehouses and distribution centers that process in excess of 400 tonnes of cardboard.
Single person operation makes Strautman balers an efficient choice to turn your waste cardboard into additional profit for your business.
Super Efficient compacting and baling
Export quality bales for resale
Back up & Support from WasteCo.
Easy to use
Call us on 0800 341 1111 today for a free quote.